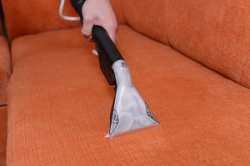 Simple washing of throws or upholstery covers is a short term measure... and can fail to eliminate the potentially harmful pollutants and allergens which can build up in the fabric of sofas and chairs, just through general use. Many allergens found in upholstery can also cause allergic reactions. That's why our upholstery cleaning service specifically targets these substances to prevent their build-up:
Dust mites and their waste
Plant pollen, and spores from trees and grass
Animal hair from house pets
In addition to this, if your upholstery is starting to look a bit worn, it may well be due to oily residues - often not removed by standard cleaning - that are bonding with pollutants and dirt, leading to this discolouration. Our upholstery cleaners London are trained to deal with this as well - no matter what your requirements are, Joel's Move Out Cleaning can cover them!
Why Choose Our Upholstery Cleaners?
Put simply, our rates for upholstery cleaning London are some of the most affordable around! Not only that but our furniture cleaners in London are chosen from amongst the top local professionals, each of whom is thoroughly trained in the use of the highly specific tools of their trade - like the top of the range extraction vacuums we equip them with. We also have a wide range of shampoos and conditioners, specially tailored to your exact sofa cleaning requirements.
We like to offer our service as upholstery cleaners London on weekdays, at the weekend, and even during the evening. Whatever time you need our staff, we're standing ready to answer the call! You can also take advantage of the discount we offer when you book multiple services at the same time - why not consider our carpet cleaning or oven cleaning services to complement your order? Joel's Move Out Cleaning services include a precise list of services, all designed to bring the shine of your home back.
Book Your Upholstery Cleaning Now
Get in touch with us now on 020 3404 5389, to talk to us about your upholstery cleaning London. Joel's friendly members of our contact team are ready and waiting to take your call - 24 hours a day, 7 days a week. They can answer any questions you might have relating to any aspect of our services, and will also be able to provide you with a free, no-obligation quote.
If you prefer to manage your booking online, or you need an even faster response - then get a free quote right this instant by filling in our online form!