Even a well-maintained carpet which gets regular vacuum cleaning can start to look a bit worn after a while. Tracked-in dirt and stains will start to discolour the fabric, even if cleaned relatively quickly. Joel's Move Out Cleaning services include the expert carpet cleaning that will restore the original look of your carpets. 
We've been offering our service as carpet cleaners London for many years. In the course of that time, we've developed a special nine-step method which guarantees that we will bring your carpets back to their best possible condition, in the most efficient way available.
The first step is the simplest - our staff will arrive at your property with a selection of top of the range shampoo treatments and vacuums.
They'll clear the area you want- making sure that all of your furniture and other possessions are safely out of the way.
Then they'll pre-treat any serious blemishes or discolorations to make them easy to deal with.
We then select the most suitable of our specialist shampoo treatments - dependent on the weave and material of your carpet - and start the cleaning process.
Our staff will pressure-inject the shampoos deep into your carpet's weave, while simultaneously extracting the dirt.
After this stage is complete, now's the time to start thinking ahead. We highly recommend using a protective treatment on your carpet, like the well-regarded Scotchgard service... talk to us about this treatment especially.
After any protective treatments you've selected have been applied, the main cleaning process is over. Our staff will rake your carpet to aid the speed of drying.

Once that is done, the technicians will place the furniture exactly how they were. The pros will use special pads under contact points of the furniture, protecting your carpets from staining again. 

Your home environment will be protected because our technicians wear special overshoes throughout the entire process. After they are done with the cleaning you can move freely, while the carpet is drying up. This process will take no longer than three to four hours.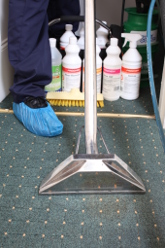 Commercial and domestic properties will both be treated in this manner... ensuring the success of our carpet cleaners London, time and time again.
Choose the Expert Carpet Cleaners
As well as our specialist cleaning process, we offer some of the most affordable rates you will find for carpet cleaning London. But if even those savings aren't enough for you, consider the discount we offer if you choose to avail yourself of any of our other fantastic services at the same time. For example, why not try our office cleaning or upholstery cleaning services?
You can have the service seven days a week, including after working hours and public holidays. Joel's Move Out Cleaning services are designed to be suitable for both residential and commercial owners. Get in touch now, our support lines are available 24/7 to meet all of your questions. 
Book Your Appointment Now!
Give us a call now on 020 3404 5389... and talk to one of our professional contact team about booking your carpet cleaning London. Our staff is very knowledgeable about the entire process and happy to answer any questions you might have. They'll also provide you with a free, no-obligation quote on any of our services.
On top of that, we offer an online service for those in need of an immediate response. So get a free quote on carpet cleaning now, with no obligation, by using the online form on this website!